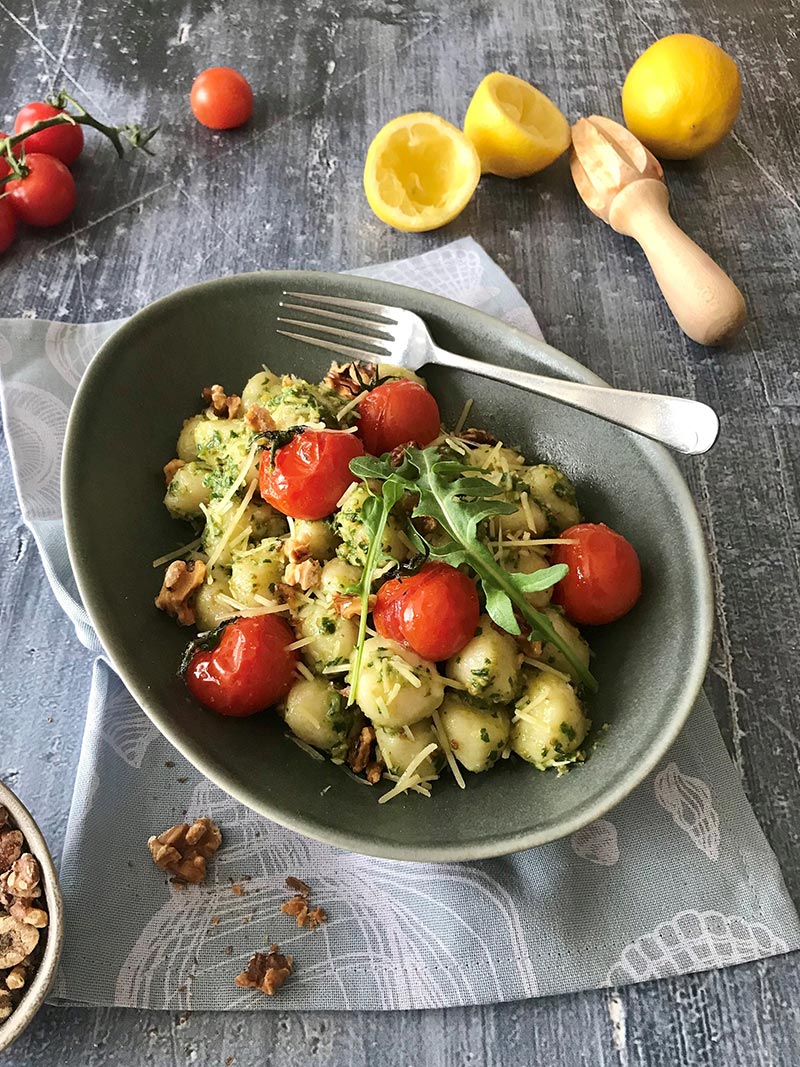 Gnocchi with Walnut and Rocket Pesto
Serves
4
Preparation
20 Minutes
Cooking Time
20 Minutes
Ingredients
– 1 x 500g
Grand Italian Potato Gnocchi
– 250g grape or cherry tomatoes
– Olive oil spray
– Salt flakes and freshly ground black pepper
– 60g baby rocket leaves
– 3/4 cup basil leaves, firmly packed
– 1/3 cup walnuts toasted
– 2-3 large cloves garlic, crushed
– Juice of 1 lemon
– 1/3 cup olive oil
– 1/4 cup shredded Parmesan cheese
– Shredded Parmesan, extra for serving
– Extra toasted walnuts, for serving
– Rocket leaves for garnish
Method
– Place the tomatoes onto an oven tray. Spray with oil and season with salt flakes and pepper. Bake at 180°C FF for 8-12 minutes or until just blistered.
– Combine in a food processor the rocket and basil with the walnuts and garlic and process until finely chopped. Add the lemon juice then gradually add the oil in a stream, whilst processing to make a loose paste. Add the Parmesan cheese then process again until smooth and well combined. Season to taste.
– Boil the gnocchi as per the packet instructions then drain well. Reserve a little of the boiling water.
– Quickly toss 2/3 of the pesto through the hot gnocchi and mix so the gnocchi is well coated. If the cheese makes it a little sticky, add a little of the reserved boiling water to loosen.
– Spoon the gnocchi into the serving bowls and spoon over the remaining pesto. Top with roasted tomatoes and a sprinkle of Parmesan and walnuts. Garnish with rocket leaves and serve immediately.
– Spoon the gnocchi into serving bowls, top with the rocket leaves and serve with Parmesan cheese.
Grand Italian Pumpkin Gnocchi is also a great choice for this recipe. Or use a mixture of both if making a larger quantity.