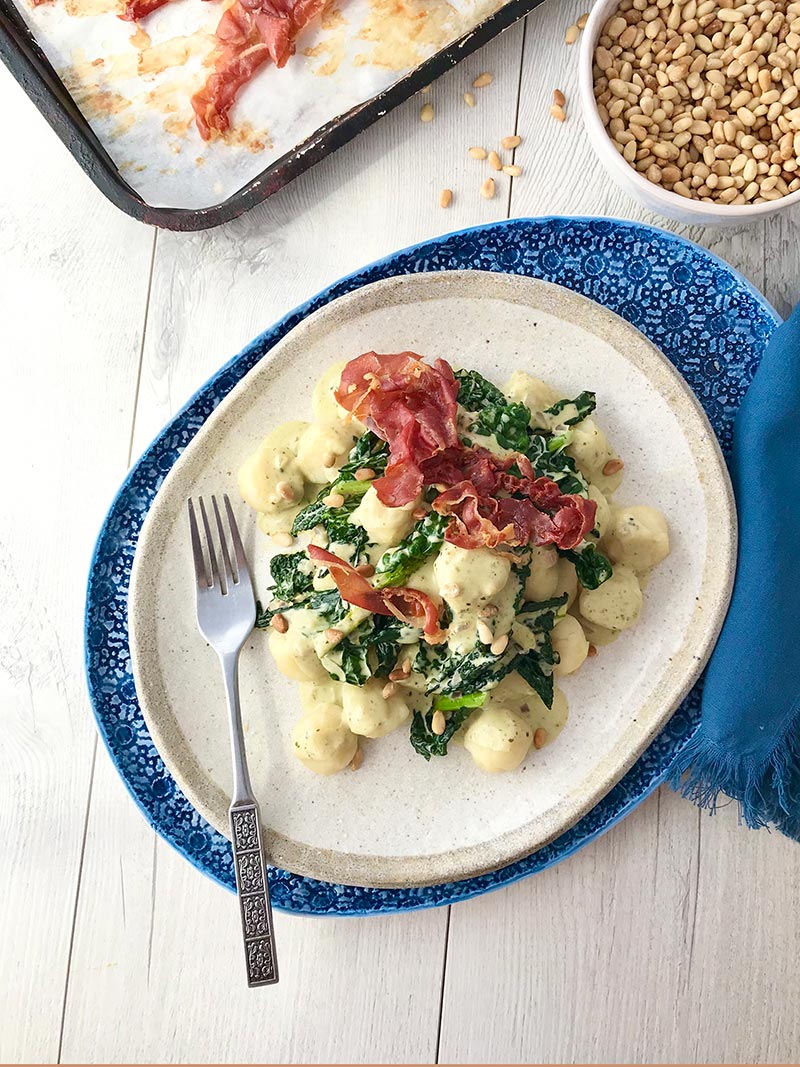 Potato Gnocchi with Creamy Kale and Prosciutto
Serves
4
Preparation
15 Minutes
Cooking Time
25 Minutes
Ingredients
– 1 x
500g Grand Italian Potato Gnocchi
– 100g prosciutto
– 1 tablespoon light olive oil
– 1 small red onion, finely chopped
– 125g Tuscan kale, trim the ends then slice diagonally into 4cm strips
– 1 cup cream
– 1/2 cup chicken stock
– 1/2 cup shredded Parmesan
– 1/3 cup pesto
– 1 teaspoon cornflour, blended with a little water
– Salt and freshly ground black pepper, to taste
– Toasted pine nuts, for serving
Method
– Place the prosciutto onto a lined oven tray in a single layer and bake at 200°C for 10 minutes or until crisp. Allow to cool.
– Heat the oil in a large frying pan over a medium heat and sauté the onion for 3-4 minutes until softened, add the kale and cook a further 2 minutes. Stir in the cream, stock, cheese, pesto and cornflour. Simmer for 3-5 minutes, until slightly thickened, season to taste.
– Meanwhile boil the gnocchi as per the pack directions then drain well.
– Divide the gnocchi between serving plates then spoon over the sauce, top with crisp prosciutto and a scatter of pine nuts.
– Serve immediately.