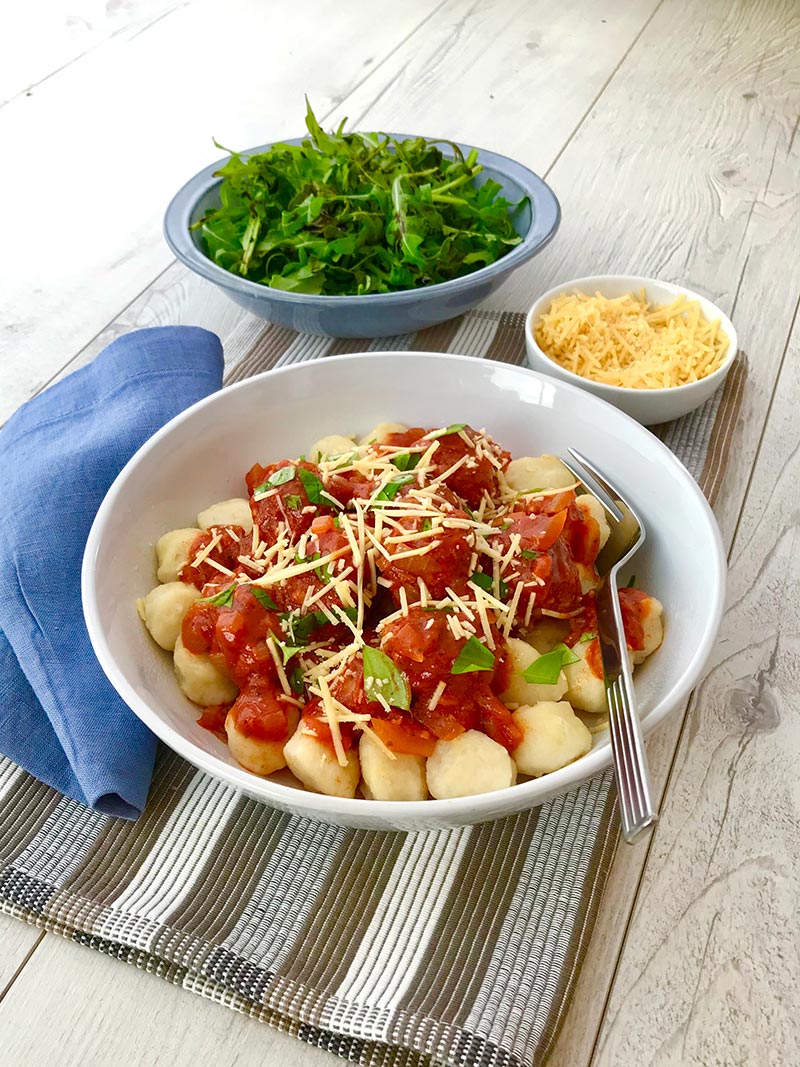 Turkey Meatballs in Tomato Basil Sauce
Serves
4
Preparation
25 Minutes
Cooking Time
40 Minutes
Ingredients
– 1 x
500g Grand Italian Potato Gnocchi
Meatballs
– 500g turkey mince
– 1 onion finely chopped
– 1/2 cup panko breadcrumbs
– 2 large cloves garlic, crushed
– 2 teaspoons dried oregano
– salt and pepper to taste
– 1 egg
– 1/4 cup light olive oil
Sauce
– 1 onion, finely chopped
– 3 garlic cloves, finely chopped
– 1 x 400g Passata
– 1/4 cup tomato paste
– 2 teaspoons dried oregano
– 1 1/2 teaspoons smoked paprika
– 1 cup chicken stock
– 1 teaspoon brown sugar
– Salt and freshly ground black pepper to taste
– Shredded Parmesan, for serving
– Chopped basil and parsley, for serving
Method
– Combine in a bowl the turkey, onion, crumbs, garlic, oregano, seasonings and egg. Mix well then roll tablespoons of the mixture to make approx. 32 walnut sized meatballs.
– Heat half the oil in a large non-stick frying pan, over a medium heat and fry the meatballs for 5-6 minutes or until browned. Remove from the pan and keep warm. Add the remaining oil to the pan and sauté the onion and garlic for 3-4 minutes or until well softened. Add the Passata, tomato paste, oregano, paprika and stock, simmer gently, covered for 3 minutes.
– Return the meatballs gently to the sauce, reduce the heat and simmer gently, covered for 15 -20 minutes. Season to taste.
– Meanwhile boil the gnocchi as per the pack directions then drain well.
– Divide the gnocchi between serving bowls and top with the turkey meatballs and sauce. Garnish with the chopped herbs and scatter over the Parmesan.
– Serve immediately.
NB: If you prefer, the gnocchi can be tossed through the sauce prior to serving.