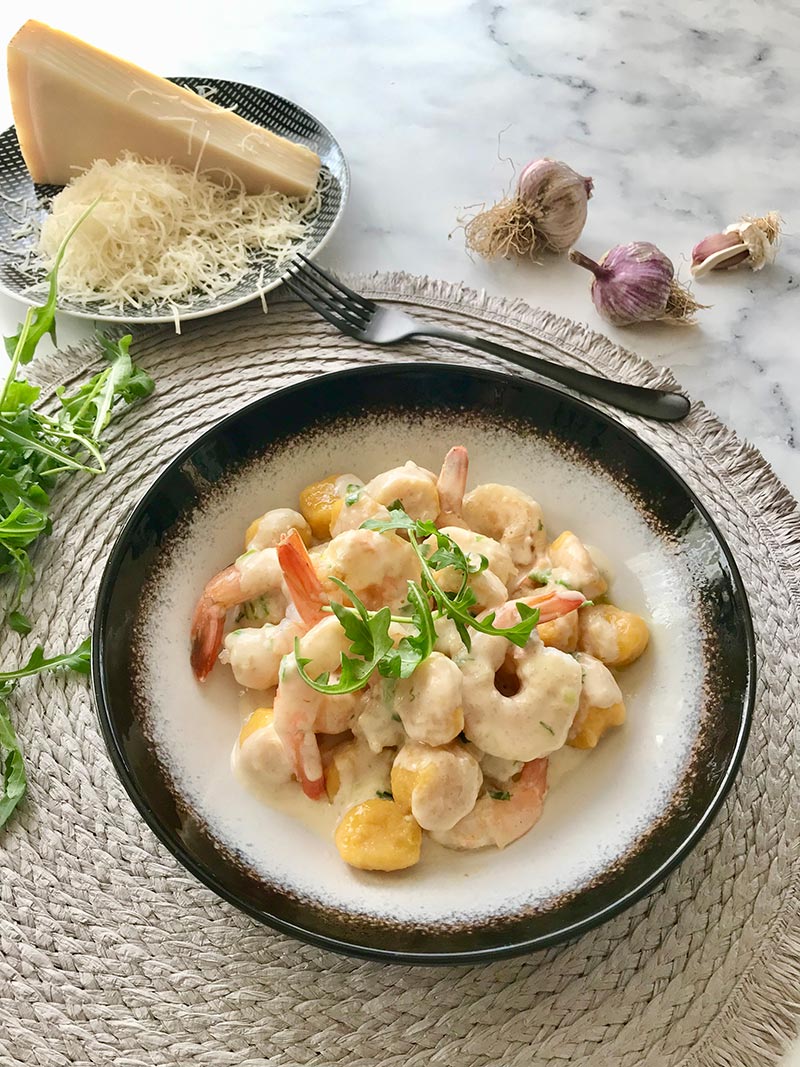 Pumpkin Gnocchi with Creamy Garlic Prawns
Serves
4
Preparation
10 Minutes
Cooking Time
18-20 Minutes
Ingredients
– 1 x
500g Grand Italian Pumpkin Gnocchi
– 600g green prawn cutlets, deveined
– 1/4 cup light olive oil
– 6-8 cloves garlic, crushed
– 3 spring onions, sliced
– 1/4 cup white wine
– 1/4 cup chicken or vegetable stock
– 300mls cream for cooking
– 1/2 cup shredded Parmesan
– Freshly ground black pepper
– 60g baby rocket leaves, for serving
– Extra shredded Parmesan, for serving
Method
– Pat the prawns dry with paper towel. Heat half the oil in a frypan over a medium to high heat and stir-fry the prawns until lightly browned and cooked through. Remove from the pan and cover with foil.
– Reduce the heat and add the remaining oil to the pan and cook the garlic and spring onions gently for 1-2 minutes. Deglaze the pan with the wine and simmer for 1 minute. Add the stock, cream, Parmesan and pepper and simmer gently until slightly thickened. Return the prawns and any juice to the pan and simmer gently until heated through.
– Meanwhile boil the gnocchi as per the packet instructions then drain well.
– Place the gnocchi into the serving bowls and spoon over the creamy prawn sauce. Top with the baby rocket and additional Parmesan.
– Serve immediately.