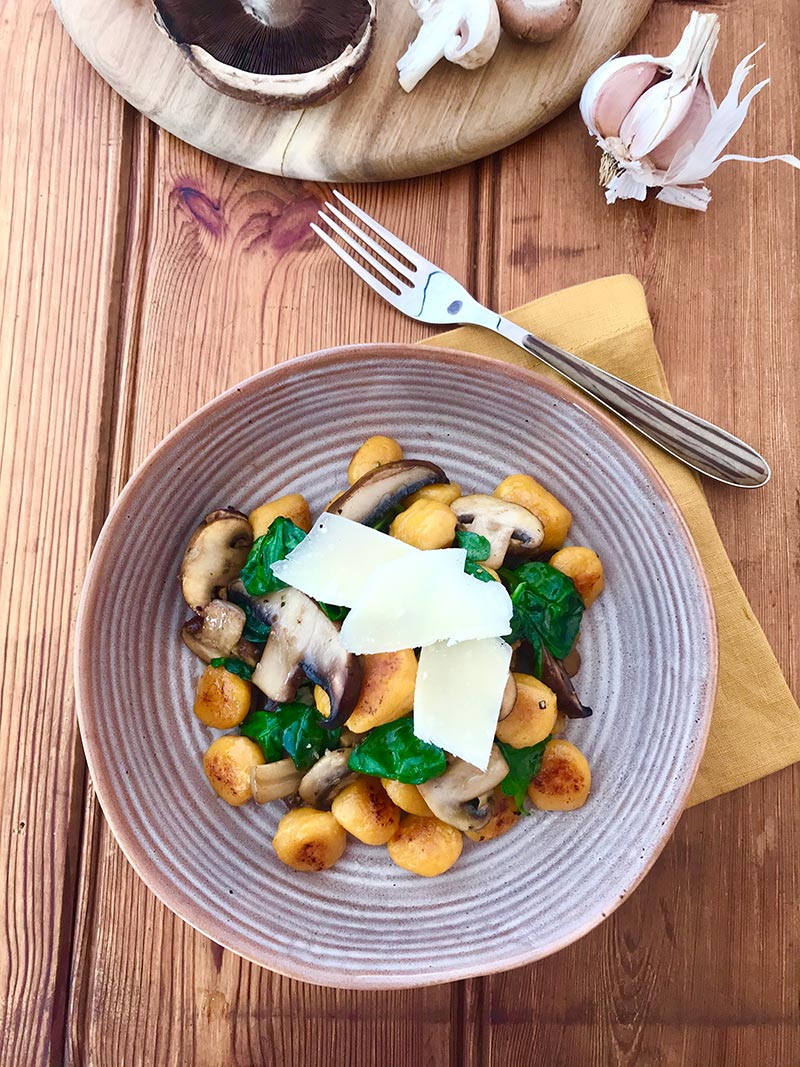 Pumpkin Gnocchi with Pan Fried Mushrooms
Serves
4
Preparation
15 Minutes
Cooking Time
15 Minutes
Ingredients
– 1 x
500g Grand Italian Pumpkin Gnocchi
– 60g butter
– 130g Portobello mushrooms, cut into 1cm thick slices
– 130g cup mushrooms, cut into thick slices
– 130g Swiss brown mushrooms, halved
– 100g baby spinach leaves
– 3-4 cloves garlic, crushed
– 1 chicken stock cube, crumbled
– Salt and freshly ground black pepper
– Shaved Parmesan, for serving
Method
– Heat the oil in a medium sized non stick frypan and sauté the garlic for 1 minute.
– Boil the gnocchi as per the pack directions then drain well.
– Melt half the butter in a large frying pan over a medium-high heat and lightly fry the gnocchi just golden. Remove from the pan and keep warm.
– Melt the remaining butter in the frying pan, add the mushrooms and cook quickly for 3-4 minutes or until browned. Add the spinach, garlic, stock cube, seasonings and return the gnocchi to the pan. Stir over the heat just until the spinach is wilted and gnocchi heated through.
– Divide the gnocchi and mushrooms between serving plates and serve with shaved Parmesan. Serve immediately.