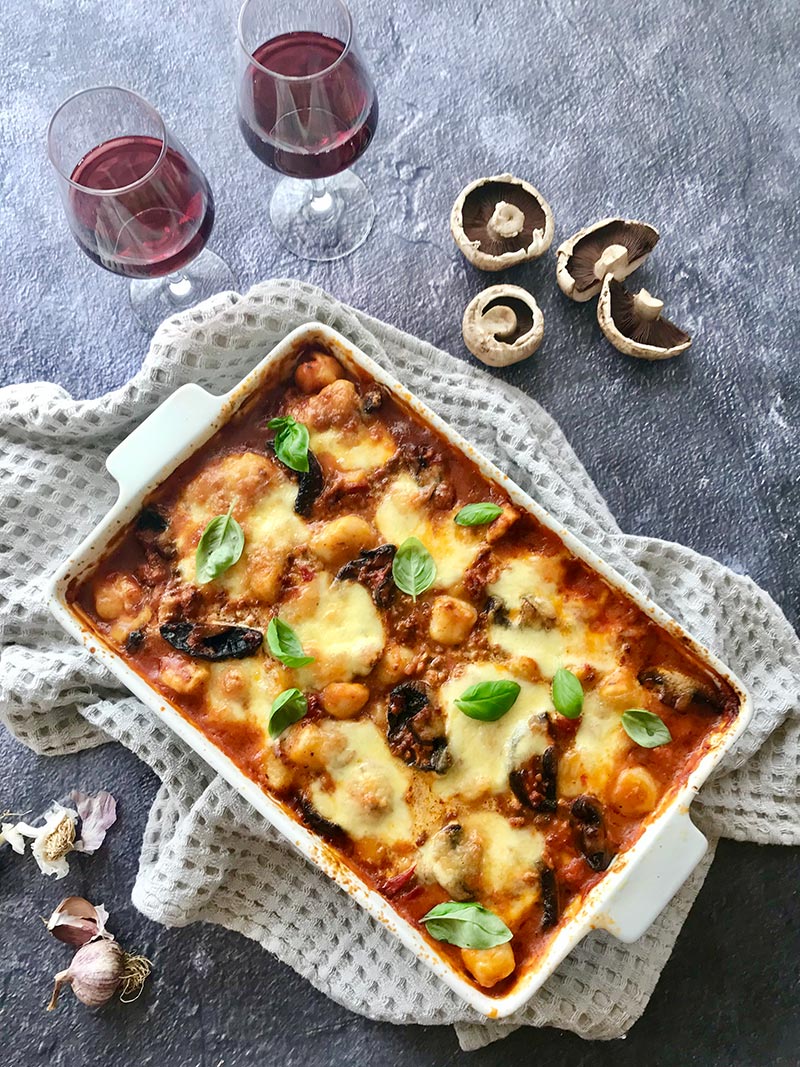 Gnocchi Bake with Ragu and Mushrooms
Serves
6
Preparation
30 Minutes
Cooking Time
2 hours 45 Minutes
Ingredients
– 2 x 500g
Grand Italian Potato Gnocchi
– 1/4 cup olive oil
– 1 large onion, chopped
– 2 stalks celery chopped
– 1 medium carrot grated
– 4 cloves garlic, crushed
– 100g bacon finely chopped
– 2 teaspoons dried oregano leaves
– 200g pork mince
– 200g beef mince
– 1/2 cup white wine
– 400g can cherry tomatoes
– 1/3 cup tomato paste
– 1 1/2 cups beef stock
– 1/4 cup cream
– 2 teaspoons cornflour blended with a little water
– Salt and pepper, to taste
– 30g butter
– 375g flat brown mushrooms, halved (quarter if very large)
– 200g Fresh mozzarella, cut into 5mm slices
– Basil leaves, for garnish
Method
– Heat the oil and gently sauté the garlic, onion, carrot and celery for 5 minutes or until well softened. Add the bacon and oregano and cook a further 5 minutes.
– Add the pork and beef and cook until lightly browned and sizzling, add the wine and simmer until the moisture has evaporated.
– Add the tomatoes, tomato paste and stock. Cover and simmer gently for 2 hours (add a little extra stock if becoming dry). Stir through the cream and cornflour, stir until thickened then season to taste.
– Melt the butter in a frypan over a medium to high heat then add the mushrooms and fry until lightly browned. Remove from the heat.
– Meanwhile boil the gnocchi as per the packet instructions then drain well.
– Place the gnocchi and mushrooms into a 32cm x 22cm shallow baking dish, spoon over the sauce and mix lightly to combine. Top with the sliced mozzarella and bake at 180C°FF for 25-30 minutes until heated through and the cheese is melted and light golden. Garnish with basil leaves. Serve immediately.