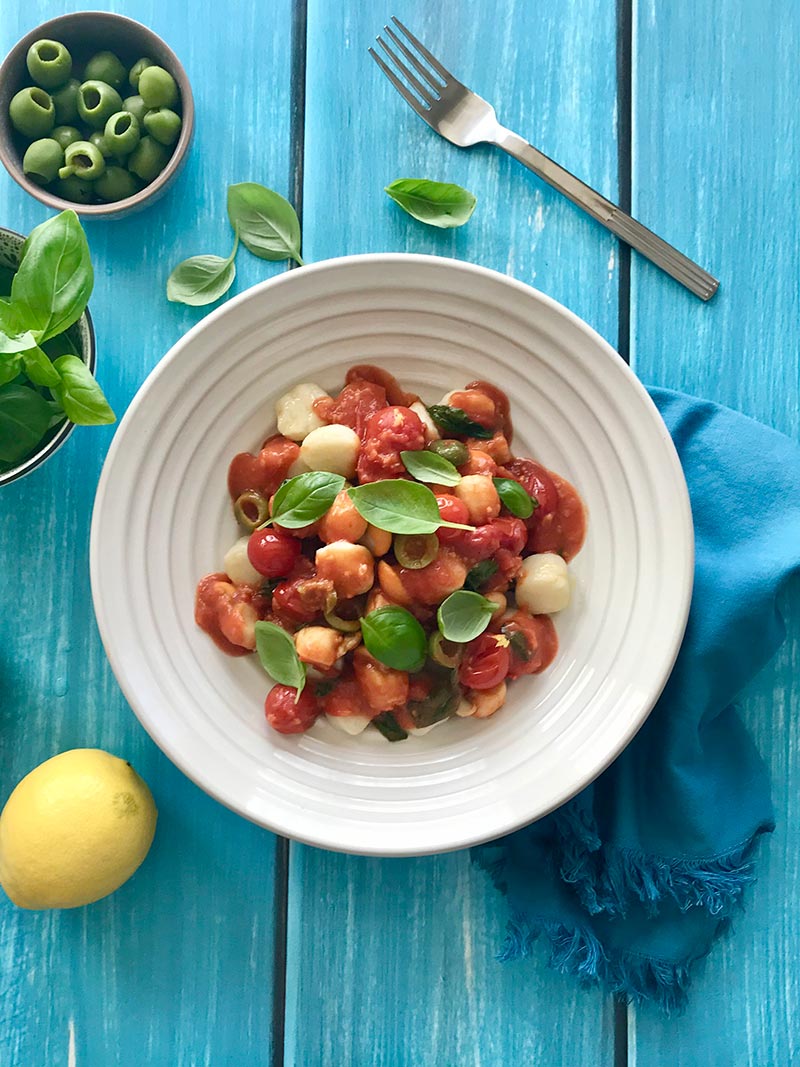 Potato Gnocchi with Scallops, Basil and Olives
Serves
4
Preparation
20 Minutes
Cooking Time
20 Minutes
Ingredients
– 1 x 500g
Grand Italian Potato Gnocchi
– 500g scallops with or without coral, cleaned, well drained
– 1/4 cup light olive oil
– 3 cloves garlic, crushed
– 1/4 cup white vermouth, or white wine
– 1/4 cup chicken stock
– 400g can cherry tomatoes
– 1/2 cup pitted green Sicilian olives, halved
– Grated rind of 1/2 lemon
– 1 cup basil leaves
– Salt and pepper, to taste
– A pinch of sugar
– Extra Basil leaves, for garnish
Method
– Pat the scallops dry with paper towel. Heat a little of the oil in a frypan over a medium to high heat and fry the scallops in batches for 2 minutes each side, until lightly browned and opaque. Remove from the pan and keep warm.
– Reduce the heat and add the remaining oil to the pan and cook the garlic gently for 1-2 minutes. Deglaze the pan with the Vermouth and simmer for 1 minute. Add the stock, tomatoes, olives and lemon then simmer gently for 3-4 minutes or until starting to thicken slightly, stir through the basil leaves, season to taste and add a pinch of sugar if too acidic.
– Toss the scallops gently through the sauce and reheat gently.
– Meanwhile: boil the gnocchi as per the packet instructions then drain well.
– Spoon the gnocchi into serving bowls then top with the scallops and sauce.
– Garnish with extra basil. Serve immediately.